Burlington, Vermont resident Cassie Willner recently shared a detailed account of her Adirondack cycling adventure on Eastern Slopes. Her story, "Pre-Peak in the High Peaks: A Late Summer Bicycle Tour in the Adirondacks" chronicles a three day journey to-and-through the High Peaks that began and ended in Burlington.
Despite living on the opposite shore of Lake Champlain Willner had never visited Lake Placid and environs, so she decided it was time to discover the High Peaks region with her husband, Charlie.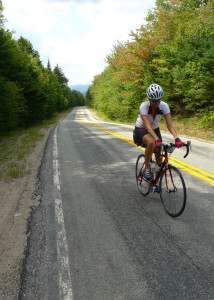 Well, what better way to explore the Adirondacks, which rise spectacularly out of the western shoreline of Lake Champlain, than by bicycle? (EasternSlopes.com)
While I was initially drawn to Willner's post because I've been hunting for low traffic cycling routes between Charlotte and Burlington, I quickly realized that her guidance into my own Adirondack "backyard" was even more exciting. I suspect that Essex area cyclists will agree.
After taking the Essex-Charlotte ferry across the lake, Willner and her husband made a quick pit stop in Essex.
we refueled at the Essex Ice Cream Café… I put back a mint chocolate chip cone and Charlie gulped down an espresso before we hit the road for the beautiful ride to Elizabethtown. (EasternSlopes.com)
In Elizabethtown they refueled once again, this time at the Deer's Head Inn, before tackling a grueling afternoon of [mostly uphill] hill riding (Spruce Hill and Route 73 from Keene to Lake Placid). They were rewarded for their endurance at the Golden Arrow Resort with secure storage for their bicycles, a refreshing dip in Mirror Lake, a bedroom view overlooking Mirror Lake, a decadent supper on Generations' outdoor patio and muscle-healing whirlpool soak.
Sounds like the perfect wrap-up to a challenging but spectacular ride!
Although I'm tempted to retell the next two days of Willner's Adirondack cycling adventure, I'd only be distilling her über detailed High Peaks cycling travelogue. If you've been contemplating a pedal-power push to and through the Adirondacks, you'll find inspiration and resources aplenty in her account.
If you need further enticement, Willner will offer you a glimpse of Saranac Lake, Wilmington, the 1980 Olympic Ski Jumps, abolitionist John Brown's home, Santa's Workshop, the Whitebrook Dairy Bar, Ledgerock at Whiteface, JP McDougall's Pub (aka the Hungry Trout), the Country Bear Diner, the McKenzie Mountain Wilderness, Whiteface Mountain and the Whiteface Memorial Highway, the Ausable River and the historic covered bridge in Jay, NY, the Ausable River and Ausable Chasm.
If you're interested in Adirondack cycling and/or if you're curious about the Adirondacks' High Peaks region, Willner's article is a must read! Enjoy.
Related articles