I'd like to return briefly to one of the most majestic (if controversial) apex predators to have graced the Adirondacks and the Champlain Valley, the cougar. Specifically I'll introduce a resource for tracking cougar sightings, and perhaps some of the fortunate members of our broader community who reported cougar sightings this spring will be able to contribute their experiences to the Cougar Watch.
Carnivorous apex predators are a thrilling but unfortunately polarizing topic, and John Davis recent three-part series exploring possible merits and implications of a resident population of wolves in the Adirondacks reminded me to help propel positive results from the debate rather thank just fanning the flames. If you missed out on any of John's wolf posts, you can click on their titles below:
John's carnivore advocacy was first showcased in a similar series about cougars (aka mountain lions) that we published last spring:
We followed John's cougar posts with a fascinating collection of cougar sightings as reported by members of the community, and at the time I didn't realize that there was an official resource for tracking cougar sightings. Today I'd like to introduce a project organized by Protect the Adirondacks!  (PROTECT)called "Cougar Watch".
Cougar Watch Project
On August 14 PROTECT published a Cougar Watch Update which brought the initiative to my attention. In addition to building a repository of first-hand cougar sighting accounts, they have created a map plotting cougar sighting locations throughout the Adirondack Park between April 2013 and August 2014.
The Cougar Watch project started as effort to gather information about sightings of cougars (Puma concolor) in the Adirondack Park. Many people have claimed to see cougars over the years, but obtaining physical evidence is difficult given that most sightings are of road crossings. Since Cougar Watch started we have collected sightings and can report 17 credible sightings and two sets of tracks. (Protect the Adirondacks!)
Seventeen credible cougar sightings sounds impressive to me, perhaps another indication that a resident population – albeit a small population – of cougars may already be resident in the Park. This seems to corroborate the anecdotal evidence presented in our post, "Cougar Sightings in and around Essex" last April. I hope that some of the folks who have witnessed cougars locally will choose to report their sightings.
The purpose of the Cougar Watch project is two-fold. First, there continue to be regular reports of cougars across the Adirondacks. Jerry Jenkin's Adirondack Atlas features a map of cougar sightings on page 51. PROTECT will manage a database about all reports made available to us. We will investigate sightings that include information, such as pictures, pictures of tracks, scat samples, etc. Second, if there is a cluster of reports in a specific geographic area, PROTECT will work with cougar experts to try and assess the presence of cougars. (Protect the Adirondacks!)
Report a Cougar Sighting
Let's help build the database in order to learn more about the possibility of an Adironack cougar population. If you think you've seen a cougar, use the PROTECT website to Report a Cougar Sighting.
Need help determining whether or not the wild cat you spied was a bonafide cougar? The following cougar identification tools and tips are from the Montana Fish, Wildlife and Parks and are shared via Protect the Adirondacks!. Please use them to help you ascertain whether or not your sighting is worth reporting. Thank you.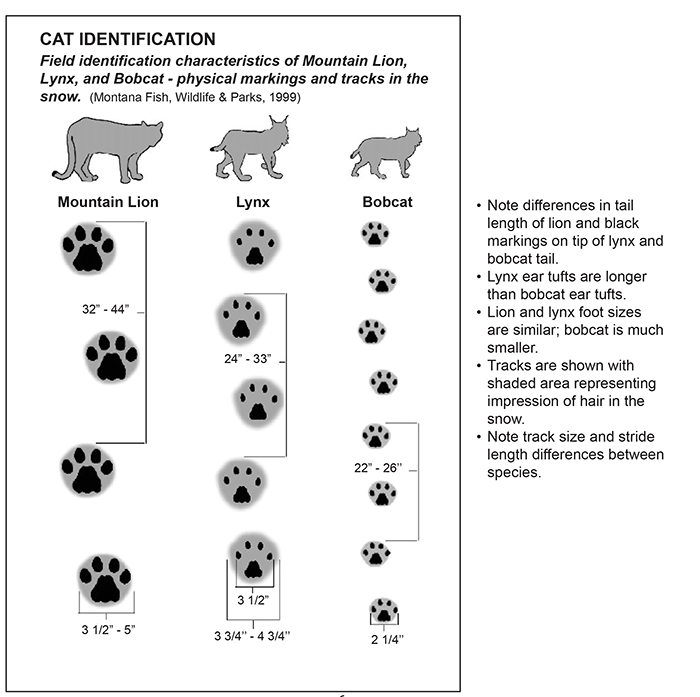 Related articles