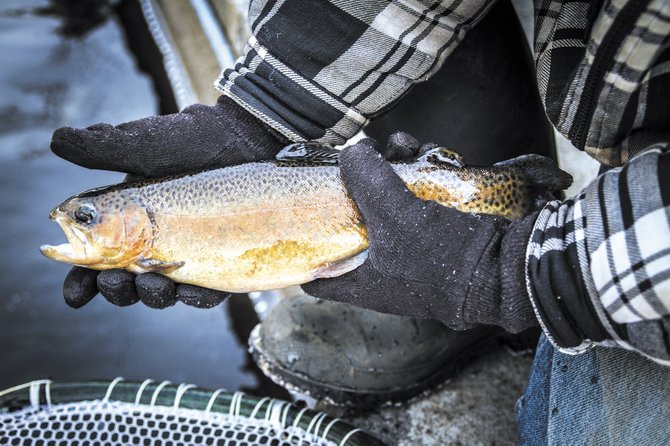 Fishermen (and women) should be happy to hear that the Essex County Fish Hatchery in Crown Point will soon begin (if it has not already begun) stocking local waters with thousands of trout, and this year the hatchery is thinking big.
This year the hatchery plans to stock approximately 47,000 trout throughout 65 bodies of water in the county, making it one of the most unique and ambitious stocking programs in the northeastern United States. […] Of the 47,000 trout to be stocked this year, approximately 17,000 are yearling brook trout, 26,000 are 2-year-old rainbow trout and brown trout and around 3,600 are 3-year[s]-old, most of which are rainbow trout. ("County Hatchery Prepares for Spring")
Hatchery Trophy Trout Program
The Essex County Fish Hatchery primarily raised yearling trout until 1990 when it began its trophy trout program. The fish released from this program are typically 3-year-old rainbow and brown trout over 18 inches in length—a trophy catch for sure, and that's not even accounting for the length they will grow in wild waters before a lucky fisherman catches one.
Hatchery Superintendent Steven LaMere launched the program the year he was hired and immediately noticed an increased impact on tourism in the area with many sport fishermen travelling to the region from other states just to fish in our county's waters.
Along with the yearling and trophy trout programs, the hatchery also stocks several area waters that sponsor children's fishing tournaments in order to nurture the growth and enjoyment of youth fishing in the region.
Why Have a Hatchery?
The need for a hatchery comes from a variety of issues such as over fishing and habitat loss due to storm run off etc. which negatively affect the local fish populations. By raising fish in a hatchery we can later stock them in local ponds and lakes, which augments the numbers produced by natural reproduction of the diminished fish species in the wild. Hatcheries are also important educational tools.
"The importance of having a local hatchery is having a connection with local people," [Hatchery Superintendent Steven] LaMere said. "For decades people of all ages have come into our facility to learn about trout."  ("County Hatchery Prepares for Spring")
Despite the fact that most hatcheries suffer from an outbreak of disease at some point, this has not occurred at the Essex County hatchery, which has been consistently certified disease free year after year.
"We're very proud of the quality and quantity of fish we've raised for more than two decades," LaMere said. "Our hatchery has managed to be successful with very little funding."  ("County Hatchery Prepares for Spring")
Though Essex County Fish Hatchery would benefit from more funding to help with rehabilitating the facility and basic upkeep, the hatchery has managed to get by using what funds they have to pay for their most pressing needs.
Read the full Valley News article here: "County Hatchery Prepares for Spring."
Related articles